Glasgow Quaker Meeting
About us
We are a large Meeting, as Quaker Meetings go, with around fifty to seventy people of all ages.
Our Meetings are open to all and we offer a warm welcome to anyone who would like to join us for worship every Sunday morning at 11 am.
Meeting for Worship Times
Sunday, 11am - 12 noon at Glasgow Quaker Meeting House
Children of all ages are welcome on Sunday mornings.  We have a group of Willing Helpers (who will also have provided references) who work to an annual programme that, using some Central Quaker resources as well as local ideas, aims to help children develop Quaker values and to take a full part in the Meeting as a whole.
Wednesday, 12.30 - 1.00pm at Glasgow Quaker Meeting House (followed by a light lunch)
This is a smaller group of around 15.
East End Meeting is planned.  For further information, please contact Derek Read, readderek [at] hotmail.com
An informal group of Quakers in the Renfrewshire area meets every 2 months for a mixture of worship and discussion in one of our houses on a Friday evening at 7.30pm.  Please contact Martin Mansell 01505 842380, mamansell69 [at] gmail.com.
Besides the Meetings for Worship listed above, groups of Friends meet in each others' houses in Discussion and Creative Listening Groups and sometimes more formally in 'Light Groups'.
The Quaker Healing Group, a branch of the Friends Fellowship of Healing, is not meeting at present.
Regularly Members of Glasgow Quaker Meeting hold a Meeting for Worship outside the North Gate of Faslane Nuclear Submarine Base on the Gare Loch to pursue our witness against Nuclear Weapons.
We also have rooms for hire to organisations whose aims are in sympathy with Quaker views.
Contact details
Wardens: glasgowquakers [at] yahoo.com
0141 248 8493
Clerk: Daphne Wassermann lm [at] aquarius1000.plus.com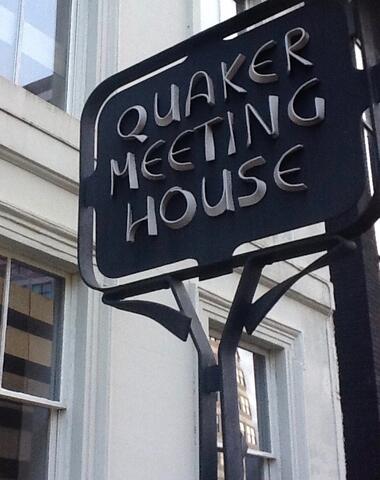 Meeting House
Glasgow Quaker Meeting House is located at 38 Elmbank Crescent, Glasgow G2 4PS and has level access at the back door and an accessible toilet: there is a lift to all floors and we have an induction loop for the hard of hearing.
In the unlikely event of a fire or other emergency, to leave upstairs levels of the building, it is necessary to descend stairs. If this would be difficult for anyone, please do not hesitate to contact us on 0141 248 8493 for further information. We will endeavour to make arrangements to enable access and emergency egress for you, if we can.
The Meeting House is:
Across the street, and 70 yards from Charing Cross Station
A 12 minute walk from Glasgow Central Station
A 20 minute walk from Glasgow Queen Street Station
30 yards from Charing Cross multi-storey car park
100 yards from the Kings Theatre
Bus routes:
Sauchiehall Street and Bath Street: 3, 4/4A, 15, 19/19A, 77
Holland Street: 18
St. Vincent Street: 2
Outreach from Glasgow Quaker Meeting
Members of the Meeting work with refugees, asylum seekers, the homeless, at food banks and in prison.  Others are involved in community building and interfaith activities.  There are also regular walking groups, shared meals and occasional other social events.
Meeting House library
The Meeting House library, located on the ground floor, is available to members and attenders whenever the Meeting House is open.  It holds a wide range of books (and some journals and other media) on subjects of interest to Friends, including Quaker thought and practice, Biographies of Quakers and Quaker history; Social concerns (e.g., climate change, poverty) and Peace testimony, non-violence and conscientious objection
Latest additions to the library are listed here.
Glasgow Meeting also has the following social media pages:
Facebook accounts:
https://www.facebook.com/groups/GlasgowQuakers.
The Facebook page is for all Members, Attenders and friends of Glasgow Quakers, or anyone seeking Quakers in Glasgow.
It is for sharing up to date information about events, Quakerly discussion and for reaching out to the wider community; for floating new ideas, and for being creative.
Younger Friends also have their own Facebook at Glasgow Young Quakers.  It is a group for young adult Quakers (and Quaker-adjacent folks) in and around Glasgow. Young is loosely defined: under 35ish.
 Quaker Forum
The Quaker Forum is now closed.