Dundee Quaker Meeting
Dundee Quaker Meeting
Coronavirus Covid-19
Due to Covid-19, Meetings for Worship in Scotland may not be held in person. Many meetings are making alternative arrangements online. If there's no specific information below, please contact the meeting for information.

Meeting for Worship
On Sundays we meet at the Wedderburn Room, Steeple Church, Nethergate, Dundee DD1 4DG - this is a temporary venue until further notice.
On Thursdays we now meet at the Meeting House, 7 Whitehall Crescent, DD1 4AR from 12.30 - 1.00 pm. Doors open 12 noon. 4 flights of stairs - no lift.
Address for correspondence: Quaker Meeting House, 7 Whitehall Crescent, Dundee DD1 4AR
Meeting for Worship is held every Sunday at 11am . Doorkeepers are posted on both main doors of the church to direct you to the Wedderburn Room which is on the 2nd floor. There is a lift to all floors.
Sometimes our Meeting for Worship is silent for the whole hour, sometimes there is ministry by the spoken word. Usually there are about 10-20 participants seated in a circle and you can sit anywhere. Visitors and newcomers are particularly welcome. The meeting ends by two of the elders shaking hands and afterwards tea and coffee are served and many stay to chat.
If you have any queries about the Meeting please contact the clerks, Pamala McDougall or Martin Pippard on: clerkdundeequakermeeting [at] gmail.com
Correspondence and for further information to our Administrator on dundeequakermeeting [at] hotmail.com
Meeting House
7 Whitehall Crescent DD1 4AR
Dundee Quaker Meeting House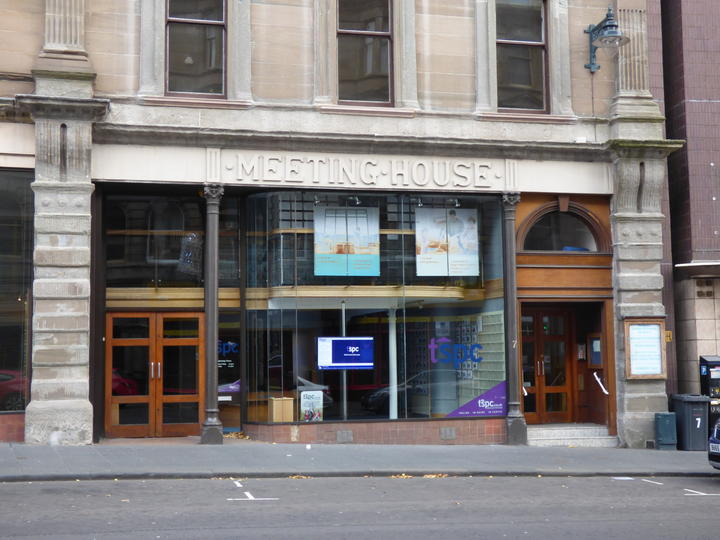 Dundee Quaker Meeting House
In the heart of Dundee, this listed building is a friendly venue for your meeting.  The rail and bus stations, and the exciting new waterfront development (including the V&A Museum of Design and the Discovery Centre), are all within a 5 - 10-minute walk.
Rooms on the first and second floor are available for rent by groups in sympathy with Quaker values.
Mezzanine floor: Small room (used mainly by counsellors)
First Floor: Large meeting room (seats up to 35), kitchen, coffee room, toilets
Second Floor: Three smaller rooms and a toilet.
Please note that all rooms are accessed via stairs so they may not be suitable for people with limited mobility.
To enquire about renting a room, please contact Marion Sharkey dundeequakermeeting [at] hotmail.com