Quakers ask MSPs to support Conscientious Objectors memorial
Quakers ask MSPs to support Conscientious Objectors memorial
Opposing War Memorial Design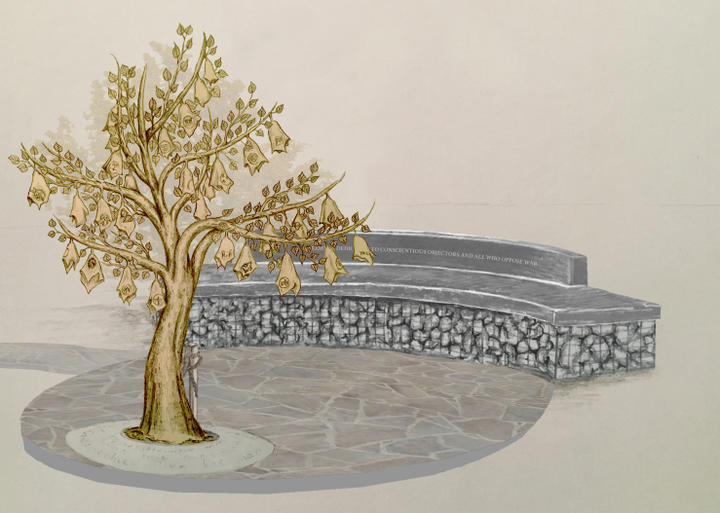 Opposing War Memorial Design
Quakers in Scotland are asking MSPs to support a proposed Conscientious Objectors memorial in Princes St Gardens, Edinrburgh, which will be debated in the Scottish Parliament on Wednesday 5 December. Situated in the midst of eight war memorials and beneath Edinburgh Castle and the National War Memorial, the Oppposing War Memorial will suggest a better way to resolve conflicts than through war. 
The Religious Society of Friends (Quakers) has a long history of conscientious objection going back to 1660, being led by faith to believe that all people, even those we fundamentally disagree with, carry something of the sacred within them. Later we worked to gain an amendment to the Military Service Act 1916, which meant Britain became the first country in the world to recognise Conscientious Objection as a right. This paved the way for the right not to kill to become an internationally recognised human right.
During World War One many Quakers, along with socialists and other philosophical, moral, or religious groups, were conscientious objectors. Among the many well-known Scots who chose not to kill are former Secretary of State for Scotland, Arthur Woodburn and poets Edwin Morgan and Norman McCaig. The planned memorial will incorporate stone from Dyce Quarry in Aberdeen, where Walter Roberts became the first conscientious objector to die while imprisoned and labouring under harsh conditions.
As partners in the Opposing War Memorial Steering Committee, Quakers in Scotland have written to all MSPs, asking that they "remember these men and their experiences, because of our sincere conviction that all people have that of God within them. We hope this memorial will remind others of this shrouded past. We believe Scotland is in a unique position to demonstrate good practice in human rights and peace building. We hope our parliamentarians will support the proposed memorial to these men who set a great example for us to work towards in cherishing as precious the life of all the peoples who throughout time have found their way here – and to remind us that peace building work is still needed desperately around the world."
Alison Johnstone MSP (Co-Convenor Scottish Greens) has lodged a motion in support of the Opposing War Memorial, which has been signed by a 18 MSPs and will be debated just after 5pm Wednesday 5 December. As this is a Member's Business debate, there will be no vote.