Peacebuilding
Peacebuilding
Trident demo larger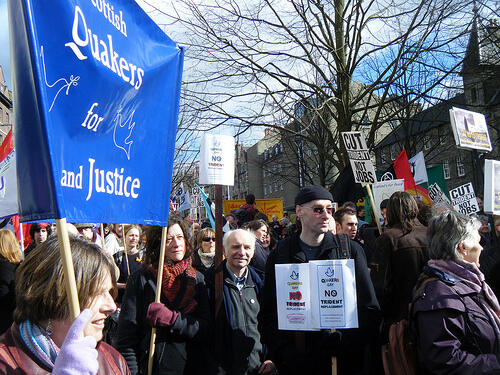 Quakers are known as a peace church, and have campaigned for a long time on matters that surround war, including lobbying to have the first ever exemption from military service on the grounds of conscientious objection written into law. The right to conscientious objection is now enshrined in the Declaration of Human Rights.
Quakers see peace as more than opposition to war and physical violence. It is a comprehensive approach to living in the world, which includes handling conflict in nonviolent ways and ensuring we avoid ways of living which damage the earth, and which might sow the seeds for future violence. We believe that violence and the injustices that often give rise to it are not inevitable, but the consequences of human decisions and structures. This also means that human actions can change the world for the better.
This leads us to work for a 'just peace', a peaceful world which is underpinned by principles of equality and justice. It means working for an end to oppression and discrimination, and doing work that prioritises both structural (rules and cultures) and personal (hearts and minds) changes.
Around the world, we have seen a rise in overt racism, nationalism and anti-migrant sentiment, fuelled by populist public figures. We see the 'weaponisation' of language, in social and mass media, becoming a potent force for narrowing the 'us' and dehumanising the 'other'. The response to growing insecurities has been a rise in militarism and state violence – enforced by armies, police, and through the criminal justice system, even though we know that violent responses do not bring a sustainable peace. Through its arms sales, the UK is directly complicit in armed conflicts that many are not even aware of. Large-scale military procurement and arms exports reinforce a militaristic approach to international problems.
Militarism in Schools
Quakers believe that schools are a place for learning and educating. While part of that learning and education will include understanding past and present in a balanced way, the visits of armed forces to schools often have no balance to them, and depict army life as glamorous, without warning pupils of the worst health outcomes child recruits experience throughout and after their army career.
Quakers are not seeking to sever the existing relationships between schools and the armed forces, but rather to make sure those relationships are balanced, paint an accurate picture of life in the armed forces, and that those pupils who contentiously object have an opportunity to do so by being informed of visits in advance – which currently does not always happen.
The UK is contravening the recommendations of the United Nations Committee on the Rights of the Child by having recruitment activities within schools.
Along with ForcesWatch, in 2016 Quakers in Scotland submitted a petition on armed forces visits to schools to the Public Petitions Committee of the Scottish Parliament.
Peace issues
Other issues surrounding peace we have worked on have included