Glasgow Quaker Meeting
Glasgow Quaker Meeting House: COVID-19 limitations
We have changed our requirements for mask wearing in the Meeting House.  At Local Meeting for Business on 12 June it was agreed that masks would no longer be required at present for those attending Meeting for Worship.
We advise Friends who wish to wear a mask to use an FFP2 mask. 
We are holding blended Meetings in the Meeting House. More details are provided below.
Currently 30 Quakers can attend easily in person and we are working on how exactly refreshments will be provided.
We are keeping a simple list of those attending in case contact tracing is required.  If you aren't sure if you are in our Book of Members, or are new to the Meeting, you will be asked to give your contact details.
 People wishing to explore Quaker worship are welcome to attend meeting for worship in person or our Zoom meetings which take place on Sundays at 11.00 and there are also shorter meetings on Sunday evenings at 7.30 and on Wednesdays at 12.30. Please contact clerk [at] glasgowquakers.org.uk for details of the links. If you would like to join us but are new to Friends, a leaflet entitled Your first time at Quaker Meeting can be downloaded as a PDF file from the Quakers in Britain website.
Everyone who expresses the wish to attend will be sent key information, such as how social distance and hygiene will be maintained. If you require more detailed information on how the Meeting House has been prepared a full risk assessment has been carried out and will be available to local Friends and on request from clerk [at] glasgowquakers.org.uk
If you have a smartphone please consider downloading the Scottish app which works by alerting you if you have been near someone who has tested positive for COVID-19 and also using the app as it is expected to help reduce infections overall https://protect.scot/
Meeting House Opening Group (MOG)
August 2021 (amended 12 June 2022)
About us
We are a large Meeting, as Quaker Meetings go, with around fifty to seventy people of all ages.
Our Meetings are open to all and we offer a warm welcome to anyone who would like to join us for worship every Sunday morning at 11 am.
Meeting for Worship Times
Please see notice above.
We also have rooms for hire to organisations whose aims are in sympathy with Quaker views: please follow the link under Charity meeting space above.
Contact details
Wardens: glasgowquakers [at] yahoo.com
0141 248 8493
Clerk: Daphne Wassermann clerk [at] glasgowquakers.org.uk
We also have the following generic email addresses for specific people or committees in Glasgow Meeting:
Children's committee: children [at] glasgowquakers.org.uk
Communication, Outreach and Media committee:coms-committee [at] glasgowquakers.org.uk ( )coms-committee [at] glasgowquakers.org.uk
Elders:elders [at] glasgowquakers.org.uk ( )elders [at] glasgowquakers.org.uk
Hospitality committee: hospitality [at] glasgowquakers.org.uk
Meeting librarian: librarian [at] glasgowquakers.org.uk
Email list distributor: mailinglist [at] glasgowquakers.org.uk
Overseers: overseers [at] glasgowquakers.org.uk
pastoralcare [at] glasgowquakers.org.uk
Treasurer: Treasurer [at] glasgowquakers.org.ukTreasurer [at] glasgowquakers.org ()
Roomhire [at] glasgowquakers.org.uk (Room hire: )Roomhire [at] glasgowquakers.org.uk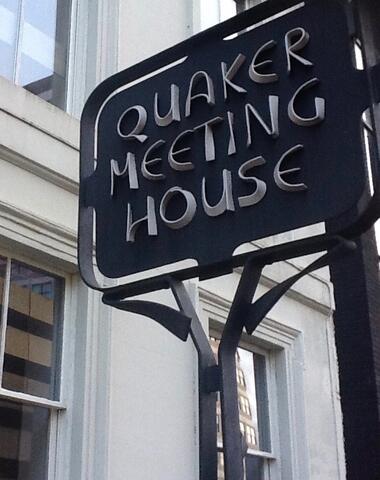 Meeting House
Glasgow Quaker Meeting House is located at 38 Elmbank Crescent, Glasgow G2 4PS and is:
Across the street, and 70 yards from Charing Cross Station
A 12 minute walk from Glasgow Central Station
A 20 minute walk from Glasgow Queen Street Station
30 yards from Charing Cross multi-storey car park
100 yards from the Kings Theatre
Bus routes:
Sauchiehall Street and Bath Street: 3, 4/4A, 15, 19/19A, 77
Holland Street: 18
St. Vincent Street: 2
Accessibility
The Meeting House has step-free access and a fully accessible toilet at rear (basement level). Lift and stairs to other floors.  The lift is small, and old. In the event of a lift failure, fire or power cut, everyone must descend stairs to leave Meeting Room. Contact us on 0141 248 8493 for more information, or if you think you might need a Personal Emergency Egress Plan.  We also have an induction loop for the hard of hearing.
Outreach from Glasgow Quaker Meeting
Members of the Meeting work with refugees, asylum seekers, the homeless, at food banks and in prison.  Others are involved in community building and interfaith activities.  There are also regular walking groups, shared meals and occasional other social events.
During the recent COP26, Glasgow Friends took part in a number of activities as well as hosting visitors from many parts of the world.  The recent edition of Quaker included this article on Quakers at COP26.
Recently, we have been able to re-start our Meetings for Worship at the gates of the Faslane Naval Base: here are two photos from our latest Meeting.
Faslane 16.5.21 Banner & QFP s.jpg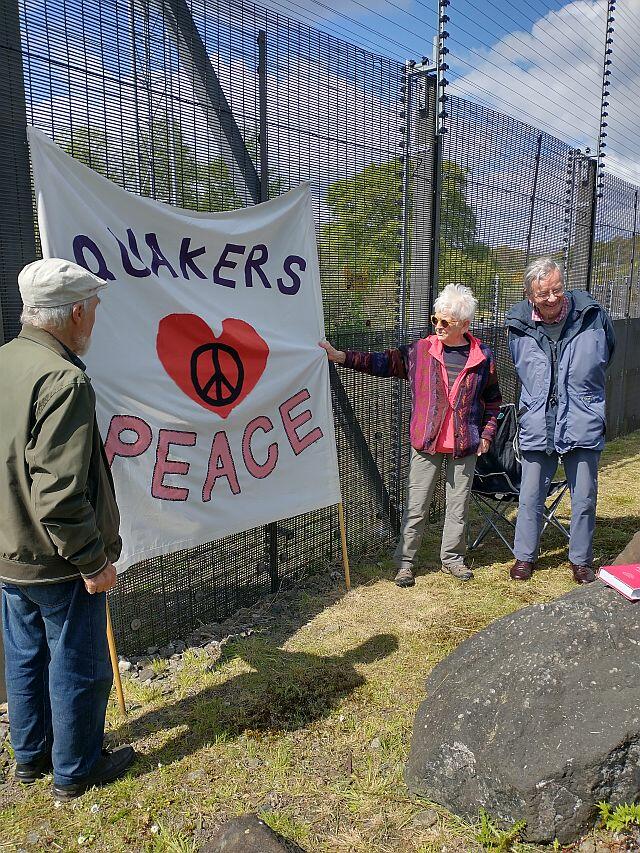 Faslane 16.5.21 Banner s.jpg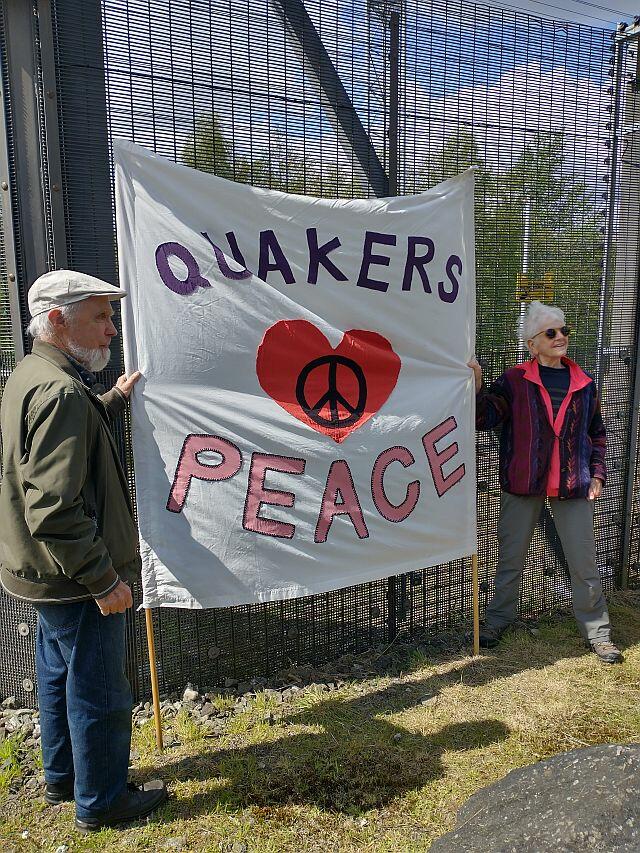 Helen Minnis of Glasgow Meeting and Paul Parker, Recording Clerk, produced a video discussing Glasgow's colonial history and the implications for Quakers which is available on YouTube (note: it is preceded by an advertisement).  Helen will be delivering this year's Swarthmore Lecture.
There are seven other YouTube videos available, describing examples of Quaker outreach by members of Glasgow Meeting:
Doreen Osborne (Volunteering during lockdown for Glasgow's Covid-19 Mutual Aid.Group)
Ruth Wilkinson (The Trussell Trust)
Steve Koepplinger (Get Go Teams)
Michael Hutchinson (Quaker Concern for the Abolition of Torture)
Mary Kennedy (Amma Birth Companions) : courtesy of Amma
Janey Andrews joined a Quaker podcast for Christian Aid's Lent podcast series and it can be heard here.
Glasgow Meeting also has the following social media pages:
Facebook accounts:
Glasgow Meeting has a Facebook page under Glasgow Quakers, while younger Friends have their own Facebook page at Glasgow Young Quakers.  This is a group for young adult Quakers (and Quaker-adjacent folks) in and around Glasgow. Young is loosely defined: under 35ish.  The younger Friends have also produced a Glasgow Meeting Community Playlist which consists of 24 songs spanning classical to country, so hopefully something for everyone!
Twitter: Our Twitter page is here

Instagram: Follow us on Instagram here
 Quaker Forum
The Quaker Forum is now closed.